Day 3 - Just Cruisin'
Waking up in South Africa, More Cape Town Madness, Cape of Good Hope,
---
Cape Town, July 26, 2000 - We woke up real early that day. There was no time to waste, we needed to explore South Africa! Follow the trails of Jan van Riebeek! Some would argue that us leaving so early would have something to do with the fact that our car had to be gone from the church grounds, where we had parked our super-corsa before 8, but that of course had nothing to do with it. The next days we would continue getting up early actually.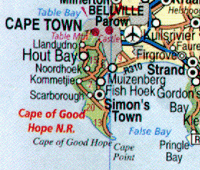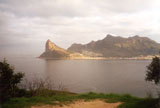 We packed our stuff, got in the car and headed south, to the Cape of Good Hope. There are two roads you can take to get there, we of course took the wrong one. Well, not really wrong, it was blocked, so we couldn't go on, but I wouldn't have want to miss it. On the pic on the right you can see where we spot where we ate our breakfast. This is also very close to the spot where I found out that you could use a Metro for more than keeping up with the news :)
After some more driving we arrived at the Kaap die goeie hoop. We parked the car and we began to make our way to that famous rock thingie, when a man in uniform got our attention... What's that man doing running around in the parking lot with such wheater? Oh wow! he's chasing a monkey! kewl...
I could go on telling you about this place, but that would mean more reading for you and more important, more typing for me, so we'll do a photo impression instead, ok?
We headed in the same direction as we did the night before. Just like yesterday we were sure that that was south of Cape Town. We drove there like we did two times before already, no one needs to tell us where to go, we're real men, we don't need no directions! Driving was great, the weather was good, the scenery absolutely astonishing! The only problem was, that the map was totally wrong, as well as the signs.