Day 2 - Road Trippin'
Driving on the left side, Cape Town madness and the Table Mountain
---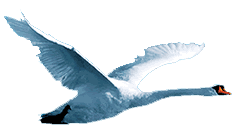 Cape Town, July 25, 2000 - 'Good Morning, this is your captain speaking, we've just got permission from ground control to take the scenic route to Cape Town International Airport'
Wow, cool people those KLM pilots. The scenic route was quite, you know, scenic. The captain told us where to look and we were allowed to leave out seats to get a good view. It was really cool and the first impression I got from South Africa was how an impression should be, impressive!

Once we were on the ground everything went pretty smooth. Our bags got checked and we were asked if we had any cheese with us... we didn't but what we did bring was a couple of kilos of Chupa Chups, The look on that guy's face was quite funny. Now, almost 2 months later I'm still eating those Chupa Chups...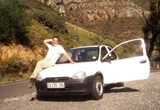 A little later we were outside, there we were, over 10.000 kilometers from home, walking on african ground! First thing now was getting the car. We got an Opel Corsa Lite 1.2, not the car of my dreams, but that didn't matter (It wouldn't last more than five days anyway, but that's another story) Right, after getting used to the smell of the car (bloemetjes!) we were ready to get going, small problem, they drive on the left over there. Neither of us had ever done that before. Erik volunteered to take the first shift. Off we went! On our way to Cape Town.
If you've never driven on the other side of the road, let alone in a busy city you don't know, believe me it's not something I'd recommend! We arranged beds at a backpackers hotel at Long Street, I think it was the Overseas Visitors Club. After wandering a bit through Cape Town, we got back in the car and drove out of the city in the direction of the Table Mountain. Looking back now, it's weird how fit I felt, I didn't get much sleep on the plane... I guess I just forgot I was tired. When we were a few kilometers out of the city, it was my turn to take the wheel. At first it wasn't easy, but gradually I started to get used to the car. I still had the urge to drive on the right though. We drove to the Table Mountain and took the cable car up.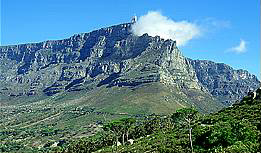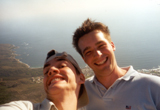 "A trip up the famous Table Mountain is one of the tourist highlights Cape Town has to offer. This is only possible on the condition that the mountain is not covered by its "table cloth" or hidden in dense fog. On sunny days it provides a fabulous panoramic view of the city, the Atlantic ocean and the mountain tops of the Cape Peninsula."
Boy, were we lucky that it indeed was a sunny day! The weather in Cape Town is totally unpredictable we were told at the airport, and it sure is. But we were once again lucky! Barely out of the plane, with almost no sleep last night but still feeling fitter than ever we were there, on top of the mountain, playing "I'm the king of the world!" on the viewing points, bugging the marmots and enjoying the scenery.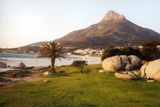 After that we went to the south coast, at least we thought we were. Later it turned out that we were actually at Table Bay on the west coast. The coast there is absolutely fantastic. First there is a boulevard, then comes grass, then sand and then water. Click on the picture on the right to see a larger image. The Photo on the left was taken at the same location, hours later when we returned there to eat at Cafe del Mar, which was really good by the way.
That night we met John. John is a guy who, for a small fee, watches over your car and makes sure it won't get stolen. We weren't sure if that meant that if we wouldn't pay him, he would make sure our car would get stolen, so we decided to flip him a couple of rands. And in exchange we got his business card, so I guess that was a pretty good deal :)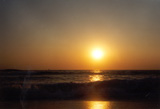 After diner we made our way back to Cape Town. We arranged with the owner of the place that we could park our car on church property, so that it would be safe for the night. Looking back now, taking so much trouble for that car wasn't really necessary, but you'll read about that later... After a couple of Heinekens in a bar across the street we went to bed. The barman had given us some good tips on what to do and of course what not to do. We were getting quite a good idea of where we were going, what places to visit, the route to take et cetera.